Please - don't tell us you're still using those boring old playing cards you inherited when your Uncle Phil in Vegas passed away. Put in the right hands, playing cards can be works of art - cheap ones at that, so get some.
Each deck of playing cards shown below - and these are only a few of the hundreds (thousands?) of great designs out there - should get you thinking about how varied playing card designs can be, and perhaps stir you to start, or add to, your own personal playing card collection.
---

Torpedo Playing Cards
An old favorite of some card players.
---

1864 Poker Deck Playing Cards
Reproduction of Civil War-era playing cards with full length, single-ended court figures.
---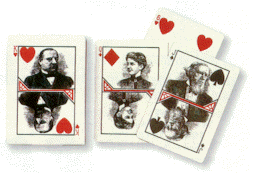 Grover Cleveland Campaign Playing Cards of 1888
This deck of playing cards, reprinted from the original housed in the Smithsonian Institution, was distributed by Cleveland during his run for the presidency in 1888.
---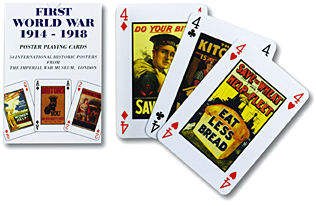 World War I Poster Playing Cards
This deck of playing cards features full-color reproductions of 54 international historic posters from the Imperial War Museum, London.
---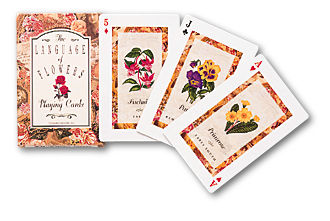 The Language of Flowers Playing Cards
In the Victorian Era, people delighted in using flowers to express different sentiments.
---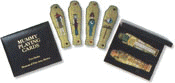 Mummy Playing Cards Gift Set
Created especially for the Museum of Fine Arts, Boston, these unique playing cards are die-cut in the shape of the ancient Egyptian sarcophagus of Nes-mut-aat-neru (c. 700- 675 B.C.).
---
Of Related Interest