---

Ghosts in Peru
[This is taken from Augustine Calmet's Phantom World, originally published in 1850, revised and edited by D. J. McAdam, 2010. Copyright as such.]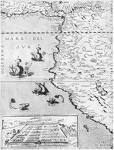 The instance we are about to relate occurred in Peru, in the country of the Ititans. A girl named Catharine died at the age of sixteen an unhappy death, and she had been guilty of several sacrilegious actions. Her body immediately after her decease was so putrid that they were obliged to put it out of the dwelling in the open air, to escape from the bad smell which exhaled from it. At the same time they heard as it were dogs howling; and a horse which before then was very gentle began to rear, to prance, strike the ground with its feet, and break its bonds; a young man who was in bed was pulled out of bed violently by the arm; a servant maid received a kick on the shoulder, of which she bore the marks for several days. All that happened before the body of Catharine was inhumed. Some time afterwards, several inhabitants of the place saw a great quantity of tiles and bricks thrown down with a great noise in the house where she died. The servant of the house was dragged about by the foot, without any one appearing to touch her, and that in the presence of her mistress and ten or twelve other women.

The same servant, on entering a room to fetch some clothes, perceived Catharine, who rose up to seize hold of an earthen pot; the girl ran away directly, but the specter took the vase, dashed it against the wall, and broke it into a thousand pieces. The mistress, who ran thither on hearing the noise, saw that a quantity of bricks were thrown against the wall. The next day an image of the crucifix fixed against the wall was all on a sudden torn from its place in the presence of them all, and broken into three pieces.
---
© D J McAdam. Please note: all applicable material on this website is protected by law and may not be copied without express written permission.
---
Home | Book Collecting | Folklore / Myth | Philately | Playing Cards | Literature | Contents