How To Host A Teen Mystery Games are specially designed for players aged 12 to 17. The game encourages kids to party hearty with the same puzzling situations and characters that have made the How To Host A Murder series such a resounding success with adults. Each of these amusing mystery games sharpens the problem-solving abilities of young players within a framework of convivial competition, leading to a surprise solution that's positively awesome! In the box is everything needed to have an awesome mystery party!

The game is played by eight teenagers willing to take a lighthearted attitude towards some pretty shady activities. Each of the eight characters in the game is a suspect in the mystery and has a reason and a method to commit the crime. The game is often played as a dinner party (a complete menu and timetable is included for the host) or you may just want to serve pizza or snacks. Food's not essential - it just keeps the brain cells working!
Each game includes:
An audiocassette tape revealing details of the mystery
A host guide with instructions
A sheet of secret clues
8 guest invitations and envelopes
8 name tags
8 player manuals containing secret information
A diagram of the crime scene
Optional dinner and costume suggestions
Recommended ages: 12 to 17
---

HOT TIMES AT HOLLYWOOD HIGH

Set in the present day, a group of students at Hollywood High in California must solve a hip mystery that threatens to destroy their school, their friends and their lives.
---

BARBECUE WITH THE VAMPIRE

In the quiet town of Jugular Springs things are not what they seem. A vampire has been turning the helpless citizens into bats. Is it the strange rock star on the hill, the brilliant teen surgeon, the mysterious prince or one of the other guests? One thing's for sure, one guest at this barbecue eats their steak extra rare.
---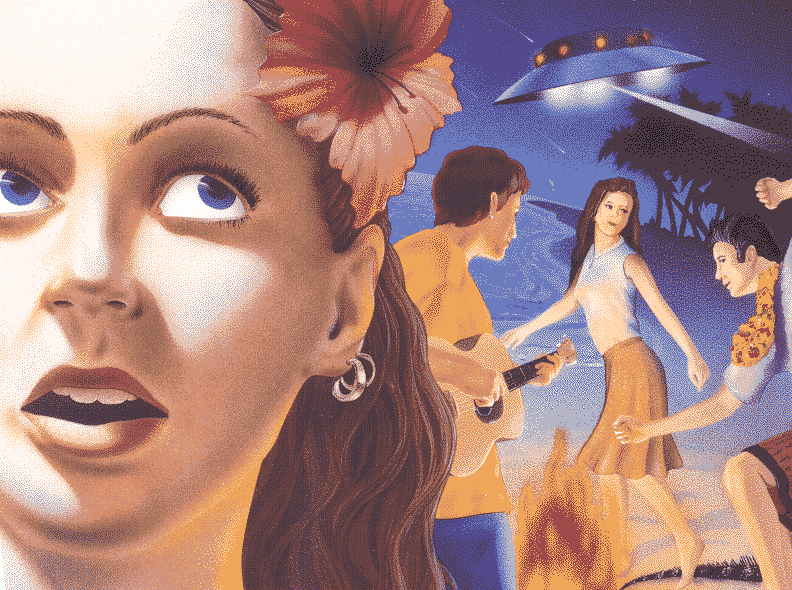 ROSWELL THAT ENDS WELL
You are invited to attend a luau and all-night stargazing party at Allen Ian Abduxion's Point Doom beach house. But when you arrive, you discover that someone at the party has been involved in extraterrestrial foul play. As you assume the role of one of these eight suspicious characters and solve the mystery, you and your guests will enjoy hours of suspense and intrigue. All you need is a sense of humor and a light-hearted approach toward blackmail, deceit and conspiracy.