[This is taken from Augustine Calmet's Phantom World, originally published in 1850, revised and edited by D. J. McAdam, 2010. Copyright as such.]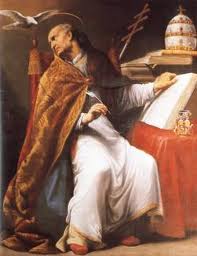 Whatever respect I may feel for St. Gregory the Great, who relates some instances of deceased persons who died in a state of excommunication going out of the church before the eyes of every one present; and whatever consideration may be due to other authors whom I have cited, and who relate other circumstances of a similar nature, and even still more incredible, I cannot believe that we have these legends with all the circumstances belonging to them; and after the reasons for doubt which I have recorded at the end of these stories, I believe I may again say, that God, to inspire the people with still greater fear of excommunication, and a greater regard for the sentences and censures of the church, has willed on these occasions, for reasons unknown to us, to show forth his power, and work a miracle in the sight of the faithful; for how can we explain all these things without having recourse to the miraculous? All that is said of persons who being dead chew under ground in their graves, is so pitiful, so puerile, that it is not worthy of being seriously refuted. Everybody owns that too often people are buried who are not quite dead. There are but too many instances of this in ancient and modern histories. The thesis of M. Vinslow, and the notes added thereto by M. Bruhier, serve to prove that there are few certain signs of real death except the putridity of a body being at least begun. We have an infinite number of instances of persons supposed to be dead, who have come to life again, even after they have been put in the ground. There are I know not how many maladies in which the patient remains for a long time speechless, motionless, and without sensible respiration. Some drowned persons who have been thought dead, have been revived by care and attention.
All this is well known and may serve to explain how some vampires have been taken out of their graves, and have spoken, cried, howled, vomited blood, and all that because they were not yet dead. They have been killed by beheading them, piercing their heart, and burning them; in all which people were very wrong, for the pretext on which they acted, of their pretended reappearance to disturb the living, causing their death, and maltreating them, is not a sufficient reason for treating them thus. Besides, their pretended return has never been proved or attested in such a way as to authorize any one to show such inhumanity, nor to dishonor and put rigorously to death on vague, frivolous, unproved accusations, persons who were certainly innocent of the thing laid to their charge.
For nothing is more ill-founded than what is said of the apparitions, vexations, and confusion caused by the pretended vampires and the vroucolacas. I am not surprised that the Sorbonne should have condemned the bloody and violent executions which are exercised on these kinds of dead bodies. But it is astonishing that the secular powers and the magistrates do not employ their authority and the severity of the laws to repress them.
The magic devotions, the fascinations, the evocations of which we have spoken, are works of darkness, operations of Satan, if they have any reality, which I can with difficulty believe, especially in regard to magical devotions, and the evocations of the manes or souls of dead persons; for, as to fascinations of the sight, or illusions of the senses, it is foolish not to admit some of these, as when we think we see what is not, or do not behold what is present before our eyes; or when we think we hear a sound which in reality does not strike our ears, or the contrary. But to say that the demon can cause a person's death, because they have made a wax image of him, or given his name with some superstitious ceremonies, and have devoted him or her, so that the persons feel themselves dying as their image melts away, is ascribing to the demon too much power, and to magic too much might. God can, when he wills it, loosen the reign of the enemy of mankind, and permit him to do us the harm which he and his agents may seek to do us; but it would be ridiculous to believe that the Sovereign Master of nature can be determined by magical incantations to allow the demon to hurt us; or to imagine that the magician has the power to excite the demon against us, independently of God.
The instance of that peasant who gave his child to the devil, and whose life the devil first took away and then restored, is one of those extraordinary and almost incredible circumstances which are sometimes to be met with in history, and which neither theology nor philosophy knows how to explain. Was it a demon who animated the body of the boy, or did his soul re-enter his body by the permission of God? By what authority did the demon take away this boy's life, and then restore it to him? God may have permitted it to punish the impiety of the wretched father, who had given himself to the devil to satisfy a shameful and criminal passion. And again, how could he satisfy it with a demon, who appeared to him in the form of a girl he loved? In all that I see only darkness and difficulties, which I leave to be resolved by those who are more learned or bolder than myself.