Way back when, postal agencies pretty much confined themselves to mundane tasks like delivering mail and issuing postage stamps, and considered themselves to be primarily in the delivery business. Some countries' postal agencies, though, caught on pretty quickly to the idea that they were also in the collectibles business; as early as the 19th century, we have accounts of stamp collectors complaining about countries whose postal services issued unnecessary stamps. (Then, as now, the complaints went pretty much unheeded.) Today, virtually every postal authority in the world actively pursues collector dollars - or other currency - with a wide array of offerings, including commemorative stamps, souvenir sheets, mini-sheets, and the like.
Some postal authorities have branched out even further, offering collectibles only tangentially related to postage stamps, including playing cards. It makes sense; people collect postage stamps, and people collect playing cards. Why not offer something with appeal to both groups?
Let me back up here, and quickly explain that I am not discussing privately printed playing cards with a philatelic theme. I vaguely recall someone offering playing cards a few years back with pictures of philatelic rarities on them, and there may be other, similar items. But what we are considering here are playing cards offered by actual postal authorities or agencies.
The first deck that I became aware of in this regard was the Valhalla deck issued by Post Danmark. This was issued in a set of two identical decks, with a back design showing a diagonal detail of a sheet of Denmark's 5,50 krr Valhalla stamp. The decks come in a clear plastic case, with a booklet in Danish discussing the various heroes of Valhalla. Here's a look at the faces of the cards:

The court cards each show a different character from the Valhalla saga, like Mimer.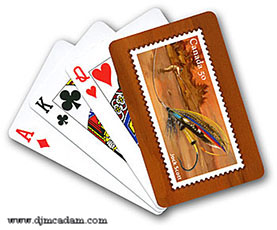 Canada's Post Office has issued at least three different decks of playing cards; the Fishing Flies deck shown here, a Lunar Rooster deck celebrating the Chinese Year of the Rooster, and a Daffodils dual deck.
Since I'm an avid stamp collector, I love the idea of having playing cards that reflect my interest in philately. I also think these decks will make great gifts, and look forward to learning about future issues by other postal agencies.