Marshall Islands issued a special Portraits of the Wild West pane of sixteen 42-cent stamps at 10:30 a.m. on August 14, 2008 — the first day of the four-day APS StampShow 2008 that was held at the Connecticut Convention Center in Hartford. The Marshall Islands Wild West pane has echoes of a U.S. issue of the mid-1990s, as well as unique connections to Hartford and U.S. history that you won't find on any United States stamps.
The sixteen men and women celebrated on these 42-cent stamps are the same as those who were showcased on a 20-stamp Legends of the West pane produced by the United States Postal Service in 1993–94.
The Marshall Islands' Portraits of the Wild West stamps honor the same thirteen men and three women honored on the U.S. Legends of the West pane: cowboy and rodeo performer Bill Picket (1870–1932); scout, stagecoach driver and legendary gunslinger and lawman Wild Bill Hickok (1837–1876); hunter, trapper, scout, and "mountain man" Jim Bridger (1804–1881); Chiricahua Apache guerrilla war leader Geronimo (1823–1909); Texas Ranger, Indian fighter, and cattleman Charles Goodnight (1836–1929); Nez Percé tactician and war leader Chief Joseph (circa 1840–1904), frontiersman, trapper, guide, Indian agent and soldier Kit Carson (1809–1868); fur trader, scout and "mountain man" Jim Beckwourth (1798–1866); stagecoach driver and lawman Wyatt Earp (1848–1929); lawman, hunter, scout and gambler Bat Masterson (1853–1921); frontiersman, scout, buffalo hunter and lawman Bill Tilghman (1854–1924); sharpshooter Annie Oakley (1860–1926) star of the "Wild West Show" of Buffalo Bill Cody (1846–1917), scout, Pony Express rider, hunter, guide, Indian fighter and impresario; nurse, prospector, "Angel of Tombstone," and anti-violence activist Nellie Cashman (circa 1849–1929); Shoshone mother and indispensable guide to the Lewis & Clark Expedition Sacagawea (circa 1787–1812); and explorer, general, California senator, and later Arizona Territory John Fremont (1813–1890).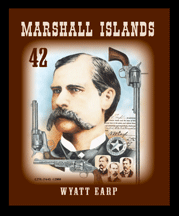 Calle created the images on these 2008 stamps as Legends of the West first-day cover cachets for Fleetwood fifteen years ago. Unicover Corp., which prints and markets Marshall Islands stamps to customers in North America, decided to reuse Calle's colorful designs in this new 2008 issue.
The Marshall Islands stamps differ in many ways from the U.S. adhesives that preceded them. One of the most significant differences is in the depiction of important historical sidearms on three of the stamps.
The Wyatt Earp stamp depicts Earp's Colt Single Action Army revolver with its distinctive, non-standard 5½-inch barrel at left, a Colt Buntline revolver with a 16-inch barrel and an adjustable sight mounted on the backstrap (like the one in the Colt collection at the Connecticut State Library at Hartford) at right, and an engraved 1869 nickel-plated .45-caliber Schofield top-break revolver similar to one the lawman reportedly carried displayed across the foot of the design. (While no such pistol was ever used by Earp, the Buntline revolver with its absurdly long barrel is associated with the lawman through dime novels that were written during the period that popularized and exaggerated his exploits.)
Across the foot of its design, the Wild Bill Hickok stamp illustrates one of his matched pair of .36-caliber Colt Model 1851 Navy revolvers with Liberty Eagle ivory grips, engraved on the backstraps "J. B. Hickock, 1869," as featured in the 1992 book The Peacemakers: Arms And Adventure In The American West by noted firearms researcher and author R.L. Wilson, who was appointed Curator of Firearms at Hartford's Wadsworth Atheneum at the age of 23.
The Annie Oakley stamp pictures an ensemble of three presentation-grade gold-plated pistols with mother-of-pearl grips that were assembled for the famed sharpshooter as a gift by her husband, Frank Butler: a Stevens-Gould No. 37 single-shot pistol and Schofield Model No. 3 .45-caliber revolver at left, and at right a single-action Smith & Wesson Model 1891 single-shot .22-caliber target pistol.
Hartford is a fitting place to issue stamps depicting firearms. Connecticut was the hub of the U.S. firearms industry that also had important roots in the northeastern states of Massachusetts and New York. Along with its Colt connections, Hartford was where Sharps Rifle Manufacturing Co. was founded in 1851, later moving to Bridgeport,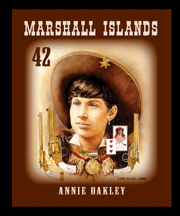 Connecticut. New Haven Arms Co., founded in Connecticut 1856, was acquired by Winchester a decade later, and produced famous firearms there for the next 140 years. Connecticut-born John M. Marlin, founder of the firearms company that bears his name, worked for Colt in Hartford before producing his own guns in New Haven in 1870. Connecticut Shotgun Manufacturing Co. is based in New Britain, and Union Metallic Cartridge Co. manufactured ammunition in Bridgeport for Remington Arms until 1970.
This issue is not the first time that U.S. and Marshallese stamps have diverged in their treatment of the same subject — no surprise, given that many Marshall Islands stamps cater explicitly to Western and American topical collectors and interests.