by D. J. McAdam.
Tarot cards do occasionally show up in feature films; they featured rather prominently, in fact, in the James Bond flick Live and Let Die (1973).  You can also find them in The Exorcist 3 (1990), Edmond (2005), and in Scoop (2006).  It's fun to see the cards on the big screen, but also dismaying to see that scriptwriters never bother consulting a tarot card reader, an obvious fact based on Hollywood's apparent belief that the Death card must mean "death" and the Hanged Man card must mean - you guessed it - a "hanged man."  Oh, well; no one ever accused Hollywood scriptwriters of having a grasp of the subtle.
There's also Japan's Descendants of Darkness - Tarot Curse, an animated film from 2003.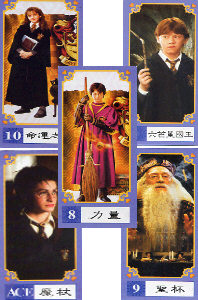 We're pretty sure that there is - as of this writing - no authorized Harry Potter tarot, and we can't say whether or not we've actually seen tarot cards used in the Harry Potter movies, but we have seen a Chinese "Harry Potter tarot" offered on eBay.  Our guess is that this deck involves a lack of respect for copyright.  If anyone has any information, please illuminate us; in the interim, we recommend that our readers refrain from purchasing the deck unless they're sure there is no copyright violation. 
What about the USA made-for-television movie "Tarot?"  It's from 1970, and starred Gene Barry, Susan Saint James, and William Shatner.  According to Sandra Brennan at All Movie Guide, the plot description is as follows: "Magazine publisher Glenn Howard tries to prove that a young girl did not really kill herself and finds himself dangerously entangled with a coven of deadly witches. The story comes from the Name of the Game TV series."
This is not to be confused with the German 1986 movie, "Tarot," apparently based on a novel by none other than Goethe, and directed by Rudolf Thorne.
Going back to 1958, we find Marlene Dietrich playing the role of Tanya, a tarot card reader, in Touch of Evil. 
Bottom line: there are a lot of movies in which tarot cards make at least an appearance.  Keep your eyes open!