Vision of Vetinus, a Monk of Augia
[This is taken from Augustine Calmet's Phantom World, originally published in 1850, revised and edited by D. J. McAdam, 2010. Copyright as such.]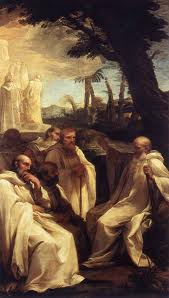 We read in an old work, written in the time of St. Augustine, that a man having been crushed by a wall which fell upon him, his wife ran to the church to invoke St. Stephen whilst they were preparing to bury the man who was supposed to be dead. Suddenly they saw him open his eyes, and move his body; and after a time he sat up, and related that his soul, having quitted his body, had met a crowd of other souls of dead persons, some of whom he knew, and others he did not; that a young man, in a deacon's habit, having entered the room where he was, put aside all those souls, and said to them three times, "Return what you have received." He understood at last that he meant the creed, which he recited instantly; and also the Lord's Prayer; then the deacon (St. Stephen) made the sign of the cross upon his heart, and told him to rise in perfect health. A young man, a catechumen, who had been dead for three days, and was brought back to life by the prayers of St. Martin, related that after his death he had been presented before the tribunal of the Sovereign Judge, who had condemned him, and sent him with a crowd of others into a dark place; and then two angels, having represented to the Judge that he was a man for whom St. Martin had interceded, the Judge commanded the angels to send him back to earth, and restore him to St. Martin, which was done. He was baptized, and lived a long time afterwards.
St. Salvius, Bishop of Albi, having been seized with a violent fever, was thought to be dead. They washed him, clothed him, laid him on a bier, and passed the night in prayer by him: the next morning he was seen to move; he appeared to awake from a deep sleep, opened his eyes, and raising his hand towards heaven said, "Ah! Lord, why hast thou sent me back to this gloomy abode?" He rose completely cured, but would then reveal nothing.
Some days after, he related how two angels had carried him to heaven, where he had seen the glory of Paradise, and had been sent back against his will to live some time longer on earth. St. Gregory of Tours takes God to witness that he heard this history from the mouth of St. Salvius himself.
A monk of Augia, named Vetinus, or Guetinus, who was living in 824, was ill, and lying upon his couch with his eyes shut; but not being quite asleep, he saw a demon in the shape of a priest, most horribly deformed, who, showing him some instruments of torture which he held in his hand, threatened to make him soon feel the rigorous effects of them. At the same time he saw a multitude of evil spirits enter his chamber, carrying tools, as if to build him a tomb or a coffin, and enclose him in it.
Immediately he saw appear some serious and grave-looking personages, wearing religious habits, who chased these demons away; and then Vetinus saw an angel, surrounded with a blaze of light, who came to the foot of the bed, and conducted him by a path between mountains of an extraordinary height, at the foot of which flowed a large river, in which he beheld a multitude of the damned, who were suffering diverse torments, according to the kind and enormity of their crimes. He saw amongst them many of his acquaintance; amongst others, some prelates and priests, guilty of incontinence, who were tied with their backs to stakes, and burned by a fire lighted under them; the women, their companions in crime, suffering the same torment opposite to them.
He beheld there also, a monk who had given himself up to avarice, and possessed money of his own, who was to expiate his crime in a leaden coffin till the day of judgment. He remarked there abbots and bishops, and even the Emperor Charlemagne, who were expiating their faults by fire, but were to be released from it after a certain time. He remarked there also the abode of the blessed in heaven, each one in his place, and according to his merits. The Angel of the Lord after this revealed to him the crimes which were the most common, and the most odious in the eyes of God. He mentioned sodomy in particular, as the most abominable crime.
After the service for the night, the abbot came to visit the sick man, who related this vision to him in full, and the abbot had it written down directly. Vetinus lived two days longer, and having predicted that he had only the third day to live, he recommended himself to the prayers of the monks, received the holy viaticum, and died in peace, the 31st of October, 824.